Rory mac Feidhlimidh named to Order of Pelican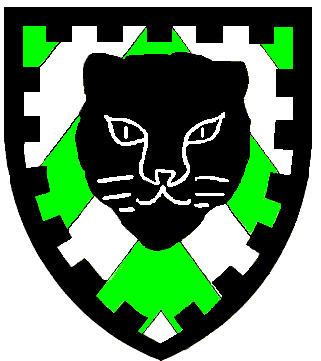 (Dateline: Baile na Scolairi, 10/30/99) To mark his years of service to shire, region, kingdom, and Society, Rory mac Feidhlimidh (m/k/a Kevin L. Conlin) was elevated to the Order of the Pelican by Their Royal Majesties Finn and Tamara at Their Crown Tournament October 30, A.S. XXXIV.
The boon was begged by Mistress Bhry of Writers Keep, in a break in the tournament (just before the semi-finals). A rather short vigil was held in the awaiting chambers, complete with a host of Irish foods (supplied by Sgt. Gwenhwyvar Llawen, former shire member & great cook!). Advice was given, cookies were eaten, then it was time to run off to the first Pelican meeting.
At evening court, Rory was again called in, with his Lady Wife Sgt. Aileen Fitzwilliam and members of Baile na Scolairi. Also on hand was a new banner (courtesy of Lady Ellen) and a new hat for the peer (via Lady Mary). The medallion was presented by Mistress Bhry, in memory of when Rory gave her his original Dragon's Heart medallion
During the ceremony, he was vouched for by Master Chen-tzu, Mistress Freydis Hakkonsdottir, and Duchess Garlanda de Stanas.
Following his elevation to the Peerage, a semi-rowdy postrevel was held at a local motel, complete with drinking, singing, and Rory's new peer trick, an imitation of the Titanic.
---
Back to Scolairi Home Page