Chen Yung Ho Becomes First Native Scolairian Peer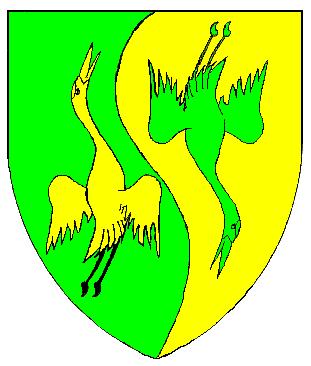 (Dateline: Baile na Scolairi, 3/30/96) Chen Yung Ho (m/k/a Charles Jones) was elevated to the Chivary by Their Royal Majesties Tarquin and Aibhiin at the Royal Tournament of Chivalry March 30th, A.S. XXX. A most skilled fighter, deadly with his pole arm and buttspike, Chen-tzu took the Baldric of a Master of Arms in the elaborate ceremony.
The procession was led by a Chinese dragon and drums. Chen and his lady, Lady Elayne, were resplendant in their new garb (created epecially for the ceremony). There was much applause when they entered the courtroom and marched to the dias.
The baldric placed over his shoulder was first worn by Duke Master Moonwulf. From there it was used in the Peerage ceremonies for Count Master Corwyn Dragonstar and Master Einar Haakonsson. Says the new Master, "What big shoes to fill!"
Following his elevation to the Peerage, a semi-rowdy postrevel was held at a local motel, complete with drinking, singing, and a "Mongolian Dance of Joy" conga line on the motel balcony.
---
Back to Scolairi Home Page